What to Consider When Choosing an Assisted Living Community: 10 Things to Keep in Mind
An assisted living community can be the ideal next step for aging adults who may need a little help with some aspects of daily life but who can, in general, live comfortably and safely on their own. With assistance for activities such as meal preparation, taking medication, bathing, grooming, dressing, and housekeeping, many adults can continue to live quite comfortably. With so many options, choosing the assisted living community that's best for you now – and in future – can be a bit daunting. Here is a quick list of things to keep in mind while looking:
1. Location
For many, location tops the list of considerations, whether preferring close proximity to loved ones or a desire to remain in a particular area. Weigh the benefits of remaining in the same town you currently live in versus moving closer to family members who will likely come visit more frequently. Also, think about the surrounding environment: Are you more comfortable in a residential neighborhood or an urban setting? Most small- to medium-size assisted living communities are often situated in established residential neighborhoods.
2. Size
Size in terms of both layouts and number of apartments varies greatly from one community to another and can influence the overall atmosphere. Similar to choosing between a small town and a large city, this is mainly a matter of preference. Visit different size communities to get a sense of the "vibe" or general atmosphere and social interaction among residents and staff. Keep in mind that, in addition to the general experience, size can impact the types and range of services.
3. Staff-to-Resident Ratio
Beyond the number of apartments, another key consideration is the staff-to-resident ratio within a community. Knowing there is sufficient staff to care for and support you or your loved one before selecting a facility is key.
4. Services
Generally speaking, dining, housekeeping, medication management, exercise, and wellness programs are typical offerings in most assisted living communities. More specialized or tailored support services may also be available, based on each resident's needs. These may include programs for dementia or mental health support. Be sure to ask what services are included in monthly or annual fees and what can be added or integrated, as needed.
5. Cost
How much you can afford to spend – or choose to spend – monthly on assisted living is a big factor. Be sure to get the full picture, including care, utilities, entrance fees, security deposits, and other upfront costs. Ask about government programs including those offered by the Veterans' Administration, or other private programs that may help cover some costs. Narrow your list to those you can comfortably afford and evaluate the options based on your other criteria.
6. Activities & Events
Like any neighborhood or local community, your assisted living community should offer a variety of activities to satisfy your appetite for physical, social, spiritual, and intellectual stimulation. Most publish monthly calendars of daily activities and special events, including art classes, lectures, book clubs, group games, musical performances, pet therapy, outings to local venues, and more. Ask to see a sample calendar or to sit in on an activity of particular interest.
7. Culture
Visiting your top two or three community choices – in person, if at all possible – is the best way to get a sense of what living there will be like. Talk to residents and staff, attend an activity or event, sample a meal, and observe the environment to make sure it feels right for you. Many communities also offer virtual tours, either online or by request. Try not to see your top choices all on the same day, it can be overwhelming and confusing. Don't hesitate to make multiple visits – at various times – before you make a final decision.
8. Amenities
Amenities vary from community to community. They may include everything from a restaurant-style dining room, swimming pool, hair salon, bistro or coffee shop, library, computer room, walking paths, community gardens, and more. Many communities also have relationships with primary care providers – podiatrists, dentists, and other health care providers – who make regular house calls. Choose a community that has all or most of the amenities you know you will definitely use and enjoy.
9. Reputation
All assisted living communities are not created equal. And a brief visit is not always enough time to get a true sense or real behind-the-scenes picture. Be sure to ask family and friends if they or someone they know has had any experience with the community. And check reviews on referral sites such as Caring.com.
10. Access to Related Senior Care
Easy access to additional care beyond assisted living may also be something to consider. Some assisted living communities are part of a broader care continuum that provides residents with access to other senior services such as in-home care, outpatient or inpatient rehabilitation, and long-term skilled nursing, when and if they ever need that level or type of care. Other communities may work with residential health care providers as referrals for patients when the time comes.
Keeping these 10 tips in mind can help ensure you find an assisted living community that not only offers what you want and need, but reflects who you are.
---
We're here to help. We welcome the opportunity to provide you with information about Mary Ann Morse at Heritage, arrange a personal tour, or answer any questions. Contact us at 508-665-5300 or visit us at www.maryannmorse.org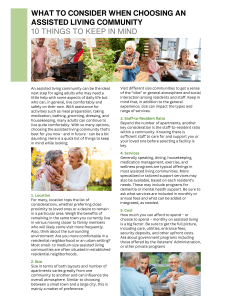 Related Posts: