5-Star Overall Rating from the Centers for Medicare and Medicaid Services, their highest possible rating, 2020
Mary Ann Morse Healthcare Center offers a full range of short-term rehabilitation, long-term nursing care, and memory care to patients throughout the Metrowest area. Our status as a non-profit facility allows us to continually invest in our mission to provide high-quality, affordable care for our patients and peace of mind for their family members and loved ones.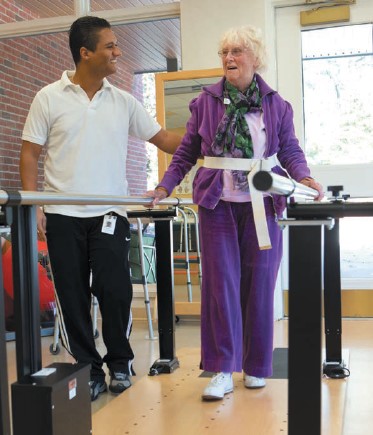 State of the Art Disinfection Protocols
At Mary Ann Morse Healthcare Center, there is nothing more important than the health and safety of our residents. As a non-profit organization, we are continually reinvesting in their care. Our state of the art, 3-Step Disinfection Protocol includes:
Adherence to stringent cleaning and disinfection protocols as recommended by the CDC, DPH, EOEA and local health departments with CDC-recommended, hospital-grade disinfectants.
Our new Puro Sentry Mobile UV Disinfecting Units emit broad spectrum UV light to eliminate up to 99.9% of bacteria, viruses, and fungi in a space.
Our HaloFogger Disinfection Systems generate a turbulent aerosol that kills germs where they hide. No other whole room disinfection technology is more effective.
YOU CAN CHOOSE THE REHABILITATION FACILITY THAT'S BEST FOR YOU
Many patients are unaware that they can choose where they rehabilitate after surgery, illness, or injury. Your physician or social worker may simply refer you to the organization they normally send people to, without your specific location or family needs in mind. Choosing Mary Ann Morse Short-Term Rehabilitation means that you are choosing:
State of the art, award-winning short-term rehabilitation
Accredited by The Joint Commission
5-Star Overall Rating from the Centers for Medicare and Medicaid Services, their highest possible rating
US News & World Report: Best Nursing Homes for Short-Stay Rehabilitation, their highest possible rating 2019/2020
Prestigious Bronze Award for Commitment to Quality in 2019, from the American Health Care Association
SHORT-TERM CARE, POST-OPERATIVE CARE OR MEDICAL REHABILITATION
The goal of short-term rehab is to swiftly achieve the patient's highest level of independence possible during recovery from a surgery, illness, or injury. Physicians, nurses, and physical, occupational, speech, and respiratory therapists work together to facilitate healing and maximize the patient's quality of life. We offer post-operative rehab for joint replacement and other orthopedic surgeries, as well as wound care. We provide cardiac and pulmonary care for those who have had a heart attack or stroke and those who are managing a chronic illness such as COPD or heart disease.
Contact Us Today
Call 508-433-4400 today for more information or a free tour, or complete the brief form and we'll contact you promptly to discuss your needs.