MARY ANN MORSE AT HERITAGE HOMESTEAD COMMUNITY
Assisted Living for Seniors with Memory Care Needs
Our Homestead Community offers assisted living options for adults with mild memory impairment. Designed for adults 62 and over, this community is ideal for those who need specialized support and a bit more assistance with daily living activities.
Comfortable Living with an Emphasis on Safety and Well-being

Mary Ann Morse at Heritage offers comfortable, worry-free living and compassionate, personalized care for aging adults who can benefit from memory care support. Choose from cozy studios and larger, suite-style layouts. Apartments are designed for comfort and safety, with features such as low-maintenance finishes, easy-access bathrooms, grab bars, and more. Created by memory care architectural specialists, our community employs design elements to help support safety and therapeutic familiarity. For instance, lighting, textures, flooring, and color schemes work together to help residents navigate short hallways from closely-clustered apartments to common dining areas.
Personalized Care and Support within a Welcoming, Vibrant Community
Residents enjoy our all-inclusive amenities, such as relaxed, small-group family-style dining, cleaning services, and a variety of stimulating daily onsite activities. Homestead residents also receive up to two hours of daily personal assistance, supervised by onsite nurses, seven days a week. Assistance may include medication reminders, help with showering, toileting, grooming, dressing, and bed making, as well as escorts to and from activities. In addition, we provide: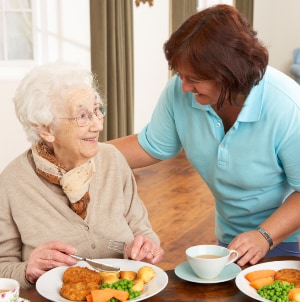 • Individualized care plans, developed in collaboration with the family
• Round-the-clock, routinely-scheduled safety checks
• 24-hour staffing by professionals experienced in helping residents with a variety of memory-related conditions
• Wellness services, including weight clinics and exercise classes
Homestead is led by a dedicated program director with deep experience in dementia and Alzheimer's care. Residents are respected as individuals, with memory care services provided by attentive, full-time professionals for the familiarity, continuity of care, and reassurance that loved ones need and deserve.
Activities Focus on Social Interaction and Goals that Include:
Reducing anxiety
Increasing feelings of support
Promoting positive feelings
Creating feelings of success
Regulating sleep/wake cycles
Decreasing feelings of confusion
Improving health & wellness
Maximizing independence
Our staff engages each resident in activities designed to achieve these goals, as much as each one's cognitive and physical ability allows. Activities are created to be appropriately challenging, while emotionally constructive. The objective goes beyond providing entertainment; it's about encouraging mental and emotional flexibility and providing social interaction – ultimately contributing to overall well-being.
Contact Us Today
Call 508-665-5300 today for more information or a free tour, or complete the brief form and we'll contact you promptly to discuss your needs.